Sowing Seeds of Change is proud to announce its first-ever Garden Chef Competition Fundraiser on Saturday, March 25th, 2023! Join us as we bring together five local chefs and our students to compete in a cooking competition using freshly harvested ingredients from our garden.
"We are extremely proud of the work we are doing with our students, this is the culmination of all the work they have put in over this last year; we can't wait to see them shine," cofounders Lindsay Smith and Dina Feldman said. "This event is the first of its kind and we are delighted to have the community see what our students are capable of."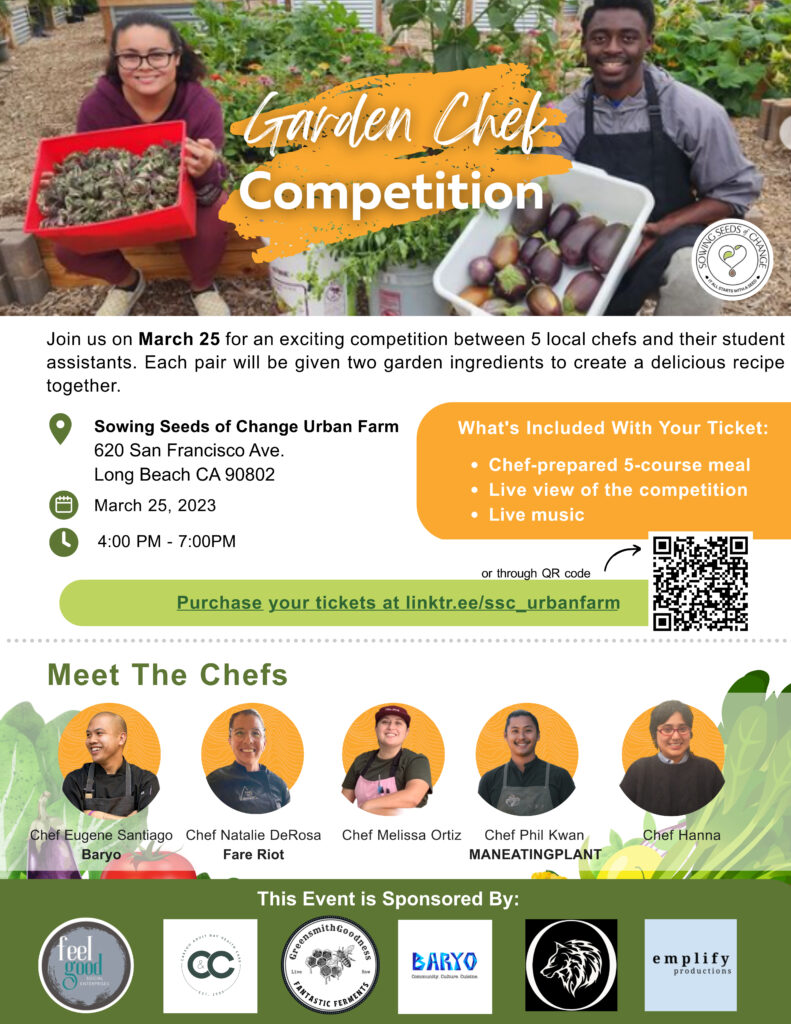 The Garden Chef Competition supports Sowing Seeds of Change's commitment to empowering marginalized youth (young adults with disabilities & foster youth) to actively engage in a local food system that encourages healthy living, nurtures the environment, and grows a sustainable community.
Through their partnerships with various local organizations such as the City of Long Beach Parks and Recreation Department, Food Finders, and AOC7, Sowing Seeds of Change has successfully provided free access to fresh produce, facilitated youth leadership and entrepreneurialism in health and nutrition education, and connected urban communities to workshops and classes, farm stands, and markets that promote sustainable agriculture.
Sowing Seeds of Change has an ambitious goal of raising $5,000 to support future programming for our students and expand our work strengthening sustainable local food systems. Beyond supporting the diverse programming and deep local food work, the raised funds are a commitment to celebrating and elevating our youth while building strong local food systems and community in the process.
Come out and show your support to our students and local chefs as they put their skills to the test and show us their culinary ingenuity! Our community is invited to join in on the fun and sample the creations to then cast their vote to crown the winning team. Tickets for the Garden Chef Competition are available for purchase. Contact Dina Feldman at (310) 561-5879 or by email at [email protected] for more information or to inquire about sponsorship opportunities.